Hexed Dalis
Newest hexies at the top, oldest at the bottom.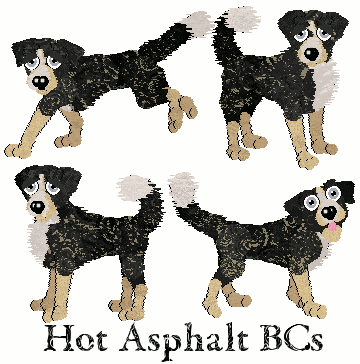 Hot Asphalt BCs: Available
Some good old fashioned hex painted BCs, making use of plush and hair20. The inspiration for this hex came about as the result of a miserable day spent in downtown Tucson in 105+ temps when I had to show up for a jury summons. Heat stroke is not fun. I sold a litter of these on Whiskerwick. Customizable: colors and textures. Eye colors taken: 50/50, 133/136, 120/110, 253/253, 169/175, 44/44.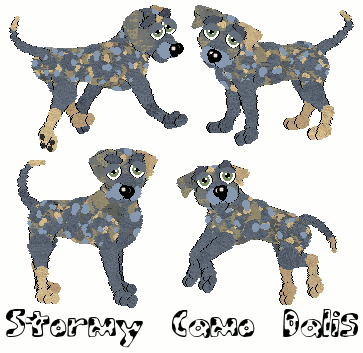 Stormy Camo Dalis: Available
These are just some simple hex painted dalis. I wanted to incorporate an untextured color in a way that would look nice, which can be tough. Customizable: Colors and textures. Eye colors taken: 214/214, 61/61, 138/133, 102/102, 213/216, 155/155.
Bunny Buddy Huskies: Available
OMG, they're so squishy and fuzzy! I was walking my dog down the street one day when I passed a lady walking her husky. That husky was so adorable, I was inspired to hex these. They ended up with that name because the first one I brought out of the AC instantly became BFFs with a bunny who popped out of the AC doors on it's own. It was so cute. These come in different colors and patterns, inspired by RL huskies. Customizable: Colors, textures, and patterns. Adopted Customs: 1 2 3 4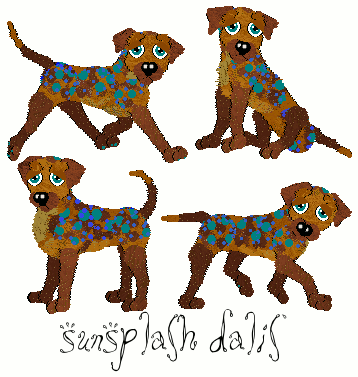 SunSplash Dalis: Available
So, these started out as a random hex, I had no real clear idea of where I was going with it. I had a nice lovely orange/rust red color combo in mind, and all was well until I suddenly got a wild hair up my butt and decided, out of nowhere, to throw in some untextured colors that would clash horribly with the original colors. I don't know, it just happened. Looking at the finished product, they reminded me of summertime, swimming/pools/beaches/water/etc. They use internal texures. Customizable: Colors and textures. Eye colors taken: 174/179, 41/41, 191/191, 60/67, 198/198, 130/130.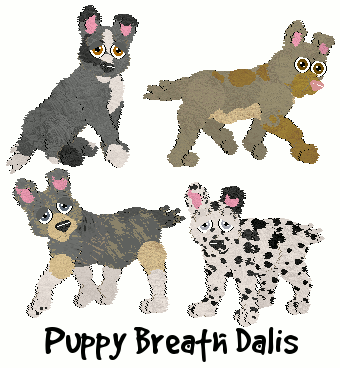 Puppy Breath Dalis: Available
I've had this idea on my list of hexing ideas for a while. My inspiration here was how cute young puppies are, with their soft fluffy fur, big round bellies, and the sweet smell of their breath. These have addballz ears and tails, shorter, fatter legs, bigger paws, pudgier bodies, shorter snouts, and addballz noses. I liked these, they're so cute. Customizable: Everything-colors, textures, tail length, patterns, etc. Adopted customs: 1 2 3 4 5 6 7 8 9 10 11 12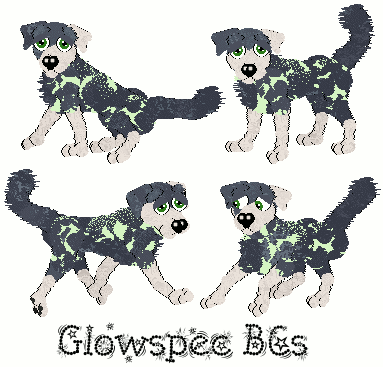 Glowspec BCs: Available
I felt like hexing a dali OW BC, and chose an unusual color combo of 115, 12, and 204. I actually really like this color combo, it's a unique one that you rarely see. These use that nice plush texture too. Customizable: Colors and textures.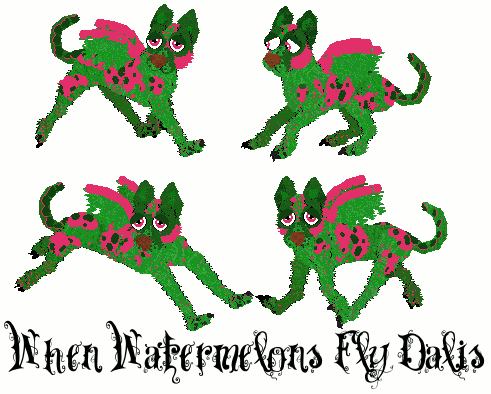 When Watermelons Fly Dalis: Available
So Quantaria was running this hexing contest over on RKC based around this neat little program Kamirah on Deviantart made called the Puppy Maker. For Quantaria's hexing contest, we had to hit the random button on the Puppy Maker and try to hex whatever puppy popped up. Here's the random puppy I got that I based these off of-Click. I'm pretty happy with the result, I think these are pretty cute. The colors reminded me of watermelons, plus the wings, and their name just sort of popped into my head when I was hexing. I ended up tying for first place in the contest, so I was pretty thrilled as I think it's my first time entering a hexing contest. Customizable: Colors and texures.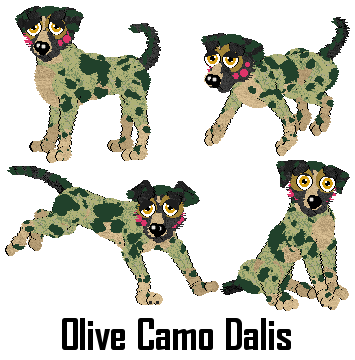 Olive Camo Dalis: Available
I had a lot of fun making the "When Watermelons Fly" dalis, so this is another hex based off a random puppy from the Puppy Maker I called them Olive Camo dalis for their color. They use an external texture made by me. These are based off this puppy. This hex didn't turn out quite the way I originally envisioned, but several people have told me they like it, so I went ahead and added them to the archive. Customizable: Colors and textures.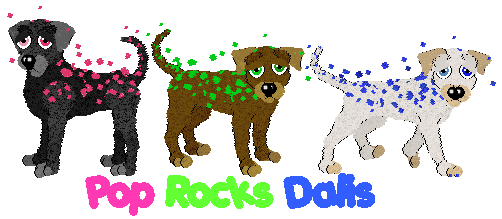 Pop Rocks Dalis: Available
A dali hex based around Pop Rocks candy, those tiny little brightly colored rocks that pop and crackle when you put them in your mouth. These dalis have pop rocks popping up from their coats. Their tongue and pawpads are the same color as their pop rocks. Customizable: Colors and textures.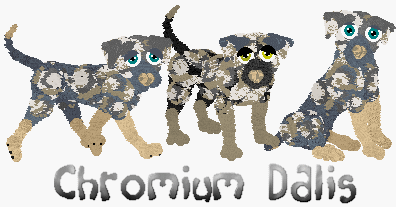 Chromium Dalis: Available
I don't do lineless OB hexies very often, but I thought these looked better lineless. They use all internal textures, and have lots of paintballz and mottled noses. Customizable: Colors and textures.

Tetanus BCs: Available
I hexed these as a reminder to myself that I was overdue for my tetanus shot, though I still kept forgetting. They have a rusty type color scheme, and are triple textured. Customizable: Colors and textures. Eye colors taken: 20/20, 159/159, 70/70, 216/217, 152/120.

Brindle BCs: Available
Some very simple double textured dali OW border collies. Customizable: Colors and textures. Eye colors taken: 206/223.

Simpleton BCs: Retired
Some rather simple dali OW border collies, triple textured. Eye colors taken: 225/226, 60/60, 151/151, 4/6. I no longer have this file.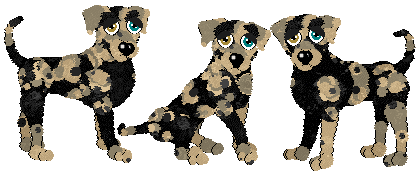 Dusted Velvet Dalis: Available
I really liked the color combo I used on these. They have several layers of paintballz, and are textured with plush to give them a velvety look. Customizable: Colors and textures. Eye colors taken: 6/100, 181/154, 214/212, 132/136, 90/67, 148/148. Adopted customs: 1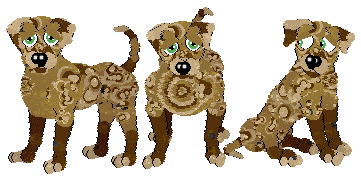 Caramel Sundae Dalis: Available
One of my favorite dali hexies so far, they remind me of ice cream sundaes with caramel and fudge topping. They hace several layers of paintballz, and are triple textured. They have target chest patches as well (target patch is anchored better than in the example, that picture is old). Customizable: Colors and textures. Eye colors taken: 182/130, 130/130, 190/172, 172/172. Adopted customs: 1 2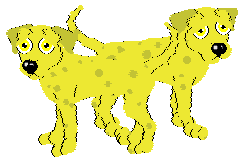 SpongeBob Dalis: Retired
Just some simple dalis in "Spongebob Squarepants" colors. Color changing practice.

Coalspot Dalis: Retired
Some simple dalis with a gray & black color combo. Paintball practice.