Downloads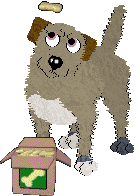 Here you can download things for your Petz program. The files on this page were, for better or worse, made by me. They have all been scanned for viruses, and run just fine on my computer. I am not responsible if they cause your computer to crash, explode, or become possessed and try to assimilate you into some eldritch alien hivemind. I'm not saying any of this has ever happened to anyone, but download at your own risk. Be sure you download the correct file/s for the version of Petz you have. Each zip file comes with info and instructions on how to install the file in your game.
Toys: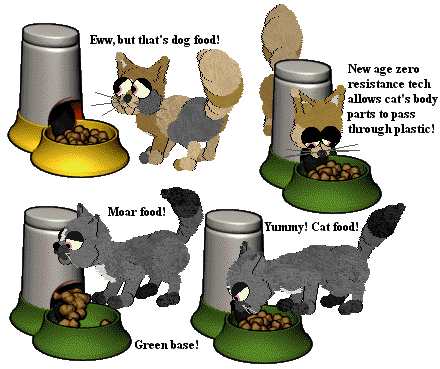 Cat Feeder
Smonnikkims posted over on RKC about wondering if there was a way to make the auto feeder appeal to cats. I decided try a test to see if it would work if I based it off of a bowl of cat food, and found if worked pretty well. I decided to recolor the base to differentiate it. So here you go, an auto feeder just for your cats!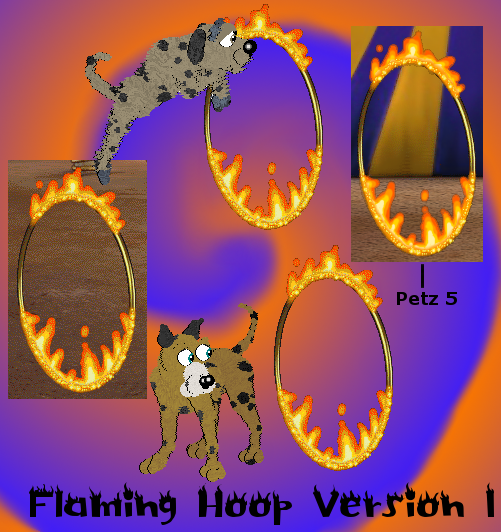 Flaming Hoop V1
I had an idea to do a flaming hoop toy that dogs could jump through. I thought it would be a fairly simple one to make, but I hit a snag. Obviously, basing it off one of the jumping hoops was the most logical thing to do, but it didn't end up being that simple, because it turned out that the hoop animation is not looping. So this meant that the "flame" will move and flicker like a flame for a short time after being picked up in the game, but will then come to the end of the animation and stop, leaving the "flame" stationary. It still looks cool when you take pictures of your petz jumping through it, just be aware that the flame will "freeze" after a few seconds of flickering, and will not resume unless you let go of it and grab it again. The picture on the top right is how the hoop looks in P5, the rest were taken in P4.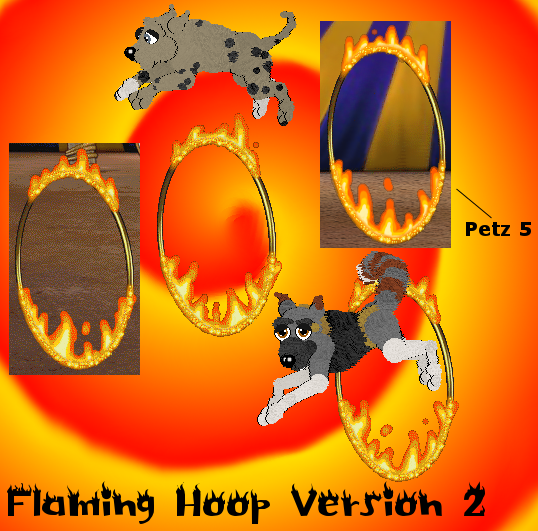 Flaming Hoop V2
So, because of the issues I had with the flame animation not looping when I based the flaming hoop off of the original hoop, I thought I'd try making another version based off another toy that did have looping animation. So here's version 2 of the flaming hoop, this time based off the Jack-O-Lantern. The flames will continuously move, but because this isn't a real hoop, you can't just hold it up and have your pet jump through it. With this one, you need to set the flaming hoop down and have your pet do a "trick jump" over it by wiggling a treat on one side of it (the opposite side your pet is on. Use the side wiggle, not up or down). It may take a bit of training, depending on the pet, but you can get the pet to appear to jump through or over the flaming hoop using this technique. This may not be as easy as using one of the real hoops, but it looks cool, and can be fun. The picture of the hoop on the upper right shows the hoop on P5, the rest of the pictures are from P4.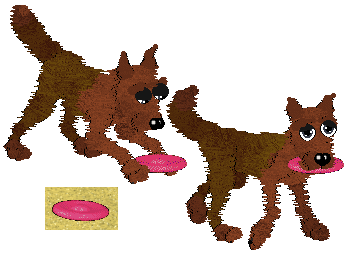 Neon Pink Frisbee
Just a simple bright pink flying disk for your frisbee loving pups! The small picture on the lower left is how the frisbee appears in P5, the other example pics where taken in P4.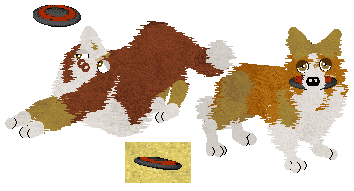 Black & Red Frisbee
Here's a black and red flying disk for your dog's catching pleasure. Especially perfect for your gothic, edgy, emo, or just plain moody dogs!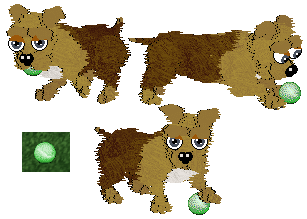 Green Tennis Ball
A simple traditional green tennis ball for you to throw for your ball loving doggies. Great for flyball games! The small picture on the lower left is how the tennis ball appears in P5, the rest of the example pics where taken in P4.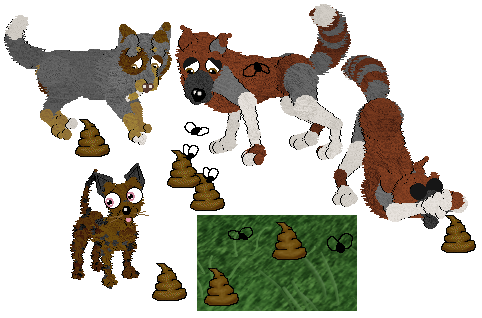 Poop
Yes folks! Now you can have poo in your petz games! No longer will you be deprived of the virtual poop scooping experience! This excrement even comes complete with flies! Think of the possibilities! Download some virtual feces today! The picture of the poop piles and flies on the grass is how the poop will appear in P5, the rest of the example pictures are from P4.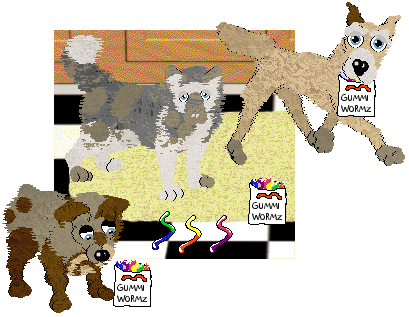 Gummy Worms Treats
Don't you love gummi worms? So chewy, fruity, and fun to eat! Well, so do your petz! Now they can enjoy some chewy night crawlers of their own! Your petz will love them!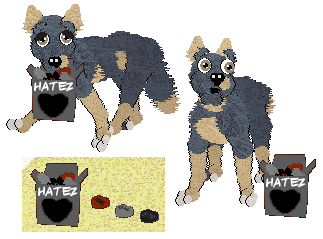 Hatez Hearts Treats
If you loved luvs, you'll hate hatez! The only candy heart that insults you back! Yes, now you and your petz can have your own Friers Club Roast! Warning! This toy features very rude, insulting, foul, immature, childish put-downs, and contains some naughty words and phrases. Download and install this toy at your risk. I, Barguestspirit, assume no responsability for hurt feelings and corrupted minds. No pixelated animals where harmed in the making of this toy, though a few where rather insulted. Make sure you have the "show on-screen tips" box checked in order to enjoy the insults. Unfortunately, this toy is only available for Petz 4 as I haven't found a way to make this one work in P5.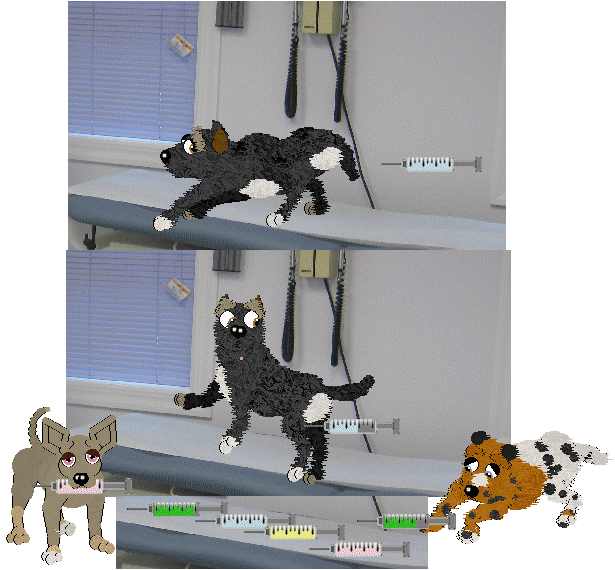 Petz Shotz
Keeping people and animals healthy or curing their sicknesses, oddly enough, often involves puncturing them with sharp objects. Well, your petz need their immunizations and sometimes injected medications to stay healthy too. Hint: Drop or click on the syringe to make it inject. Your pet may sometimes react to the shot, but should calm down quickly. Be careful, just like in real life, too many shots can make your pet unhappy.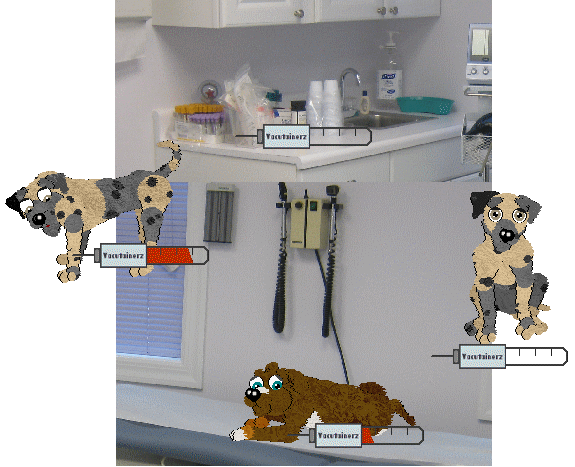 Blood Drawing Needle
Blood tests are useful for helping to find out what might be wrong with petz who aren't feeling well, as well as an important part of a healthy pet's routine check up. This blood drawing needle allows you to quickly obtain a sample of your pet's blood with very little discomfort.



Breed Files:

GSD Marked Dali OW
I have a fetish for dalis with GSD markings. I've never been able to find a GSD marked dali OW file though, so I decided to make one myself. This is a good file for people who like the GSD marking, but don't wish to breed with the Ubisoft GSD, or people with P4 who don't wish to put the Ubisoft GSD breed file in their game. Now you can breed a sexy litter of GSD marked dalis easily. The GSD marking in this file comes in 9 color variations, and all the normal dali spot variations are in there. I've also added 23 eye color variations.



Base Files for Hexers
These are base files I've made for hexing. I've decided to share them. These files are meant to be used by hexers, though you could probably breed with them too. All of the original variations are still in the files, I just swapped ears and/or tails. Use them for hex painting, making new breeds, making your own OW files so you can adopt out hexed litters, etc. I only ask that you not take these files as they are and claim them as your own or put them up for download elsewhere without my permission. If you use them for hexing, it'd be really cool if you show me what you made, but that isn't mandatory.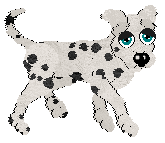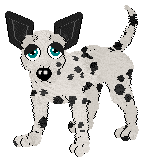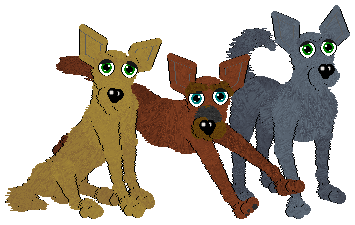 Chi Eared Sheepie Tailed Great Dane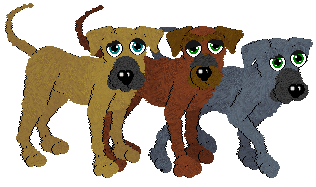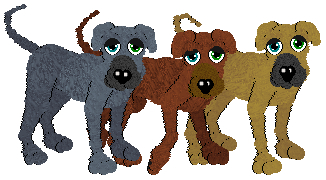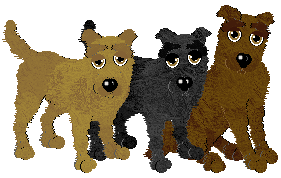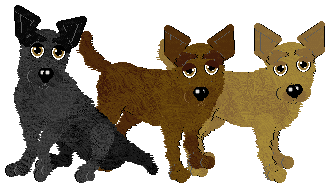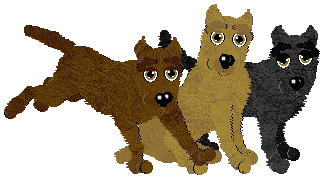 P5 Carrying Case Skins
Here you can download case skins to customize the look of your carrying case in Petz 5. Unfortunately, Petz 4 does not have this skinning feature. If you aren't sure how to use these, instructions are in the readme file.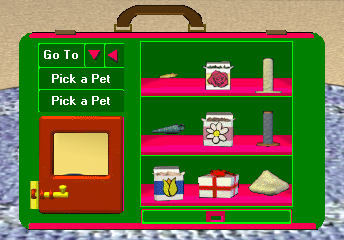 Watermelon Case Skin
Here's a delicious looking case skin with rich, bright green and pink watermelon colors. Just looking at it makes me hungry!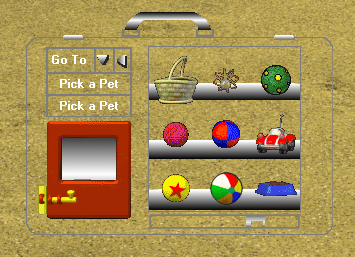 Glass & Metal Case Skin
This case is totally transparent except for the metallic parts. This skin brings a sleek, sophisticated look to your carrying case.